Tablet MioCARE

™
A310/A335 Series
The new 5.88″ touch screen tablet from MioCARE

™

with 3G and WiFi. The A310 and A335 include integrated NFC and a 1D/2D barcode scanner offering data capture built right into your workflow. This gives real-time and context aware reporting and data retrieval offering significant error reduction. With 3G and WiFi connectivity the MioCARE

™

A310 and A335 are always connected indoors and out through use of the fast charging cradles allowing the devices to be constantly available. 
Key features
• Unified communication – integrated camera and microphone
• Secure – optional support for mobile device management
• Robust/infection control – IP54 splashproof/1 metre drop resistant.
• Quality & reliable build
• Great battery life – providing up to 6 hour battery life

Enquire here

Key specifications


• Screen – 5.88″ capacitive
• Battery – 300mAh capacity, up to 6 hours operation
• Memory – internal 8GB
• Input: micro USB, micro HD video out
• RAM – 512MB (system memory)

Request a quote

Accessories:
6 Unit Cradle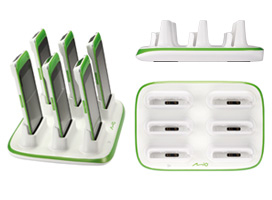 Digitizer Pen