New. CompanionWave.


So much more than

patient entertainment.
Imagine if it were possible for each patient to receive personalised entertainment and information to suit their age, language and reason for stay while delivering on key Hospital outcomes. 
Imagine CompanionWave.
Patients.


A patient experience that is personalised. It's better.

Let's explore how.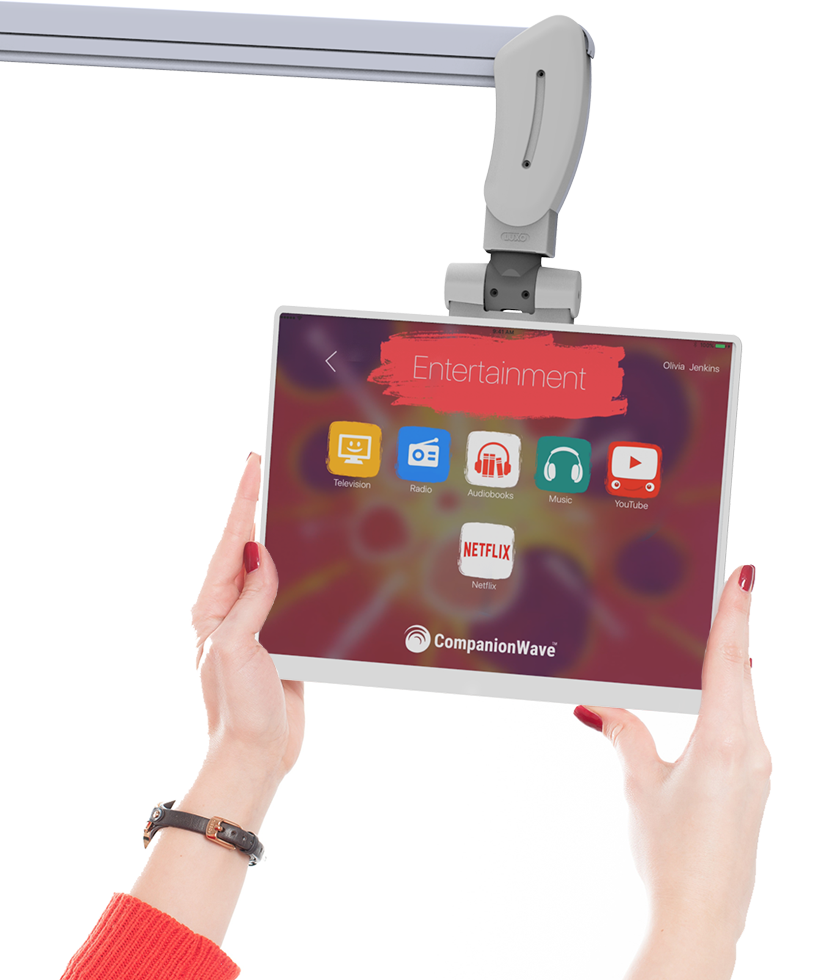 Supporting patient recovery.


Patients are empowered because they understand their care plan and feel in control. Informed patients recover more quickly, reducing their length of stay.



Enhancing the patient experience.


Future proof entertainment and infotainment helps patients become distracted to relax and aid recovery, while access to communication tools keeps them connected to family and friends which reduces loneliness. 



Patient experience.


Personalised entertainment
. Personalised education.
CompanionWave ensures Adam has a personalised experience, allowing him to enjoy children's TV channels, his favourite games, information about his stay and instant connection to family/friends through video chat or social media.
Peter doesn't use technology much in everyday life, however he got up to speed with CompanionWave's user interface in no time. Now, Peter feels more in control of his own care and CompanionWave has given him the ability to have a more informed and meaningful conversation with his doctor.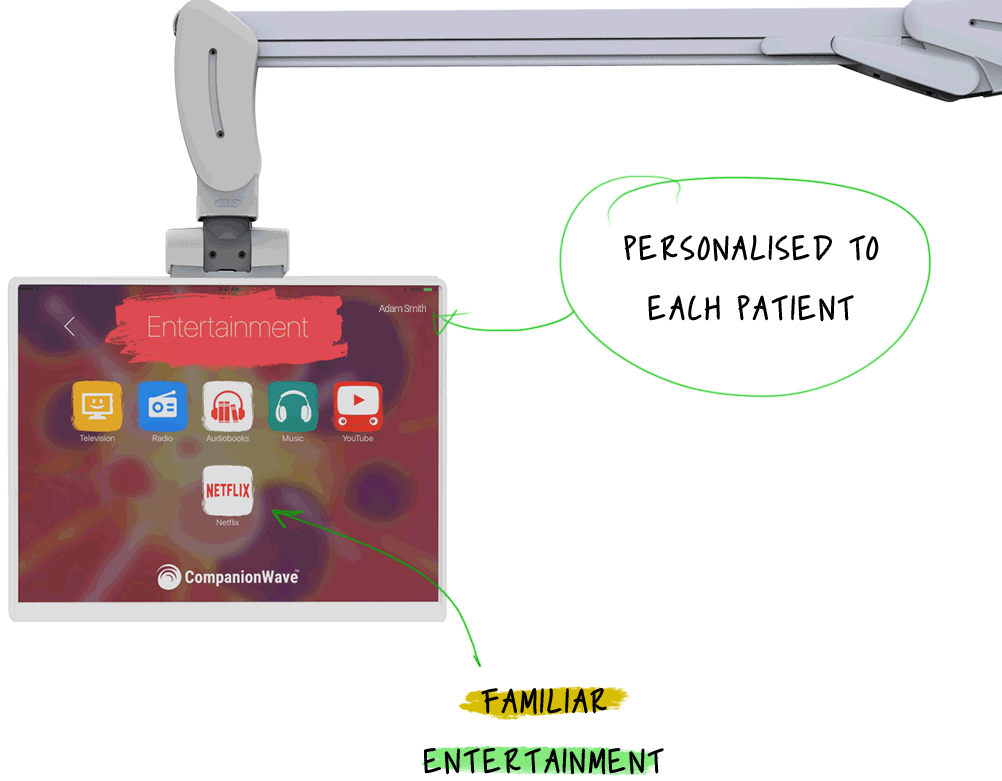 Education.


Empowered patients.
Patients who are more educated about their condition become more empowered in their care. CompanionWave offers personalised information specific to their stay that ultimately helps speed up their recovery. Recovering more quickly reduces their length of stay, reducing costs for the Hospital.


Cost savings.


Patients that are in control.
Normally, Hospital administrative tasks like meal ordering or patient surveys would be paper-based, taking up administration time for clinicians or other staff. With CompanionWave, patients can play an active role in their care by doing those tasks themselves. Empowering patients, while saving the Hospital money and saving staff time.

Staff.


More time to care, improved clinical outcomes and cost savings.
Let's explore.
Improve clinical outcomes.




Deliver patient and clinical outcomes. More informed patients understand their care plan better and recover more quickly. This reduces their length of stay and reduces readmission rates – saving costs.



Save money. Save time.


Through administrative efficiencies, such as using the differentiated nurse call and apps like pain management/translation tools which improve communication. Manage centrally too – with no more vending machines.

Better CQC score.




CompanionWave is a great way to increase patient satisfaction and engagement scores, a vital requirement for high CQC scores.
Differentiated nurse call.


A nurse call unlike any other.
If a patient and nurse combined to invent a nurse call, what would it look like? 
It would be interactive and specific so patients could pick from different nurse call options. It would be mobile, help communication, save nurses time and reduce costs for the NHS.
It would be CompanionWave.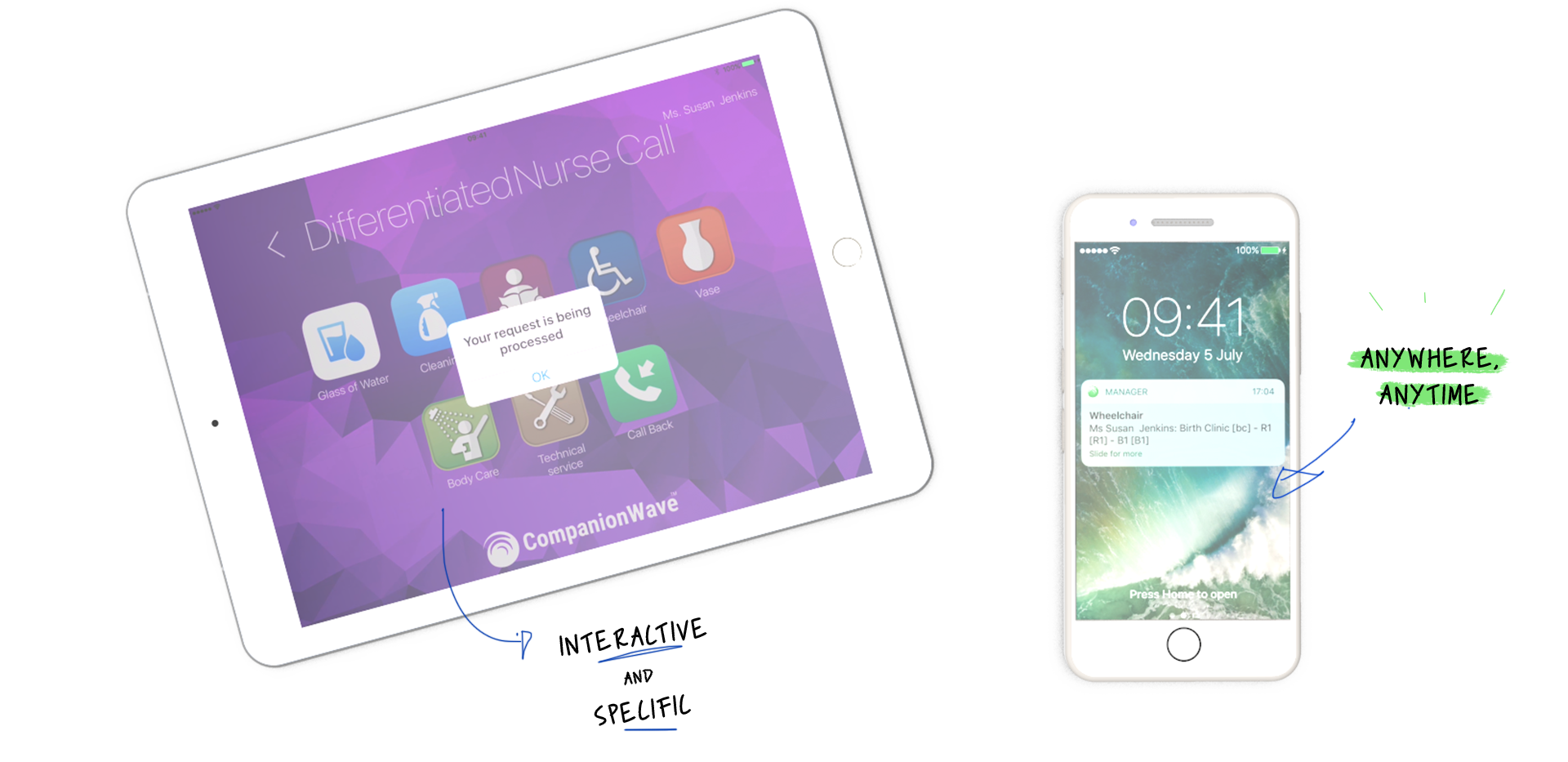 Reporting.

Analytics for proactivity.
Improve administrative efficiencies by analysing information such as the most frequent nurse calls, peak nurse call times, amount of time saved with relevant staff and improving response times. All of this increases efficiency, proactively reduces falls and reduces costs.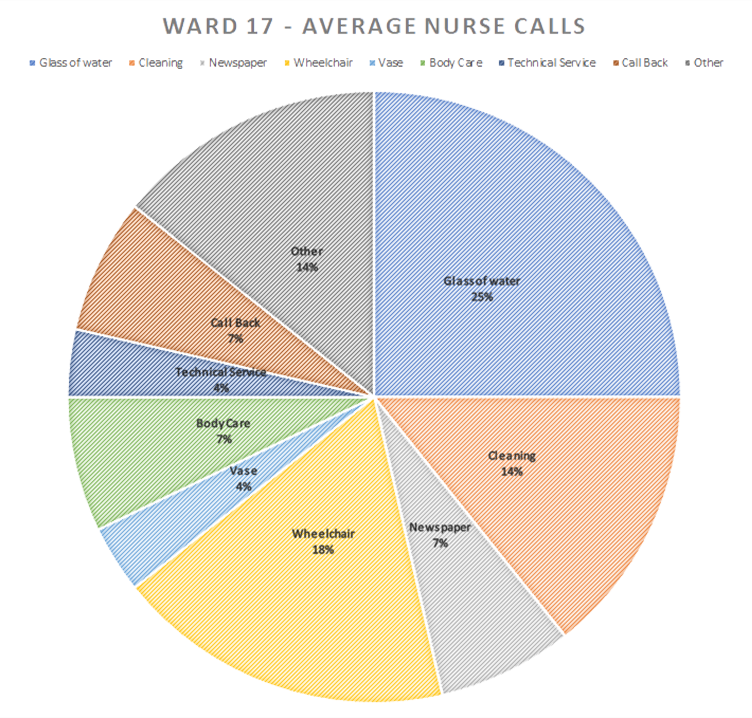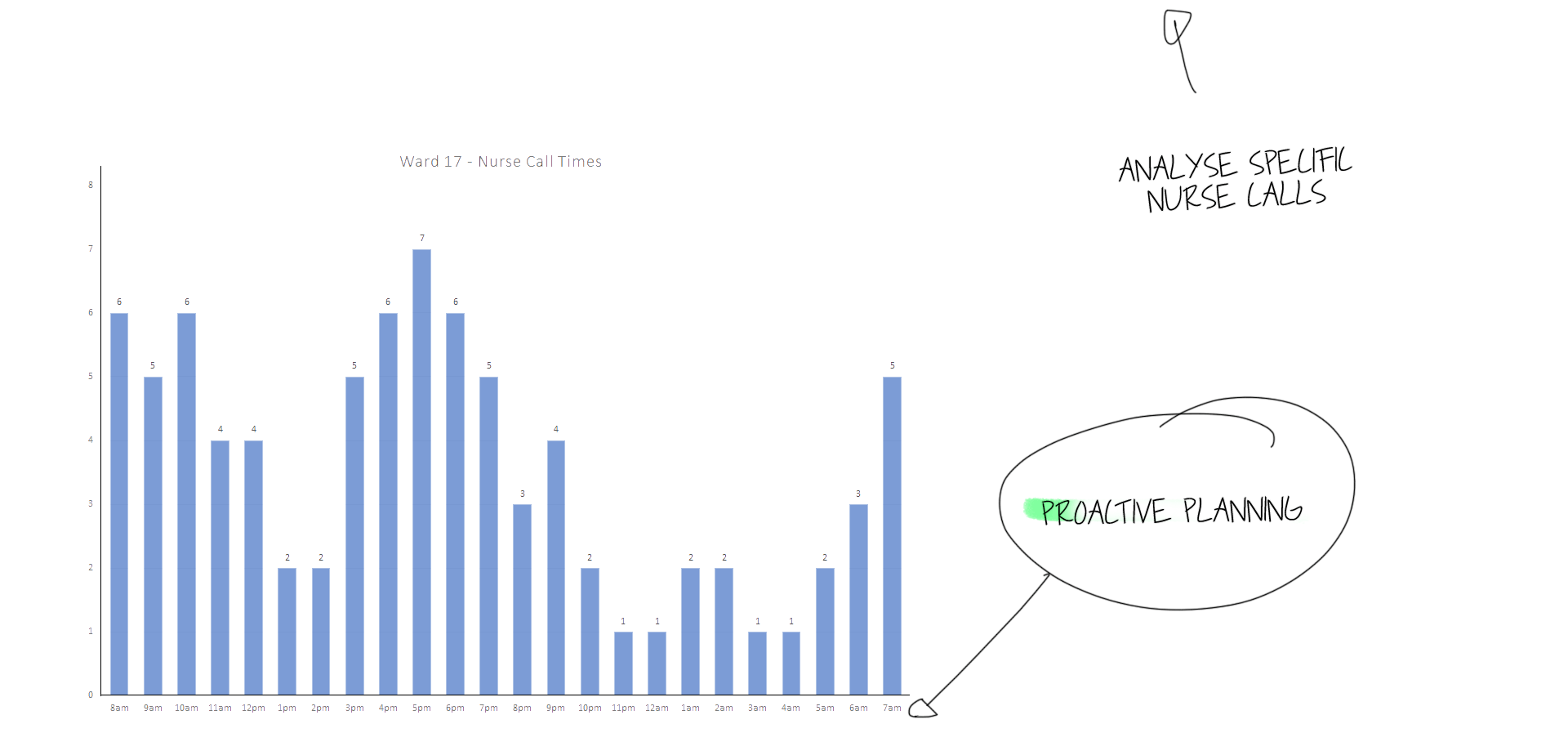 Interpreter at the bedside.
A report has found that the NHS spends around £23m annually on interpreters and translation to ensure patients completely understand their care plan. Staff using CompanionWave can access translation tools which revolutionise their interpretation of different languages. Enhancing the patient experience and reducing spend for the NHS.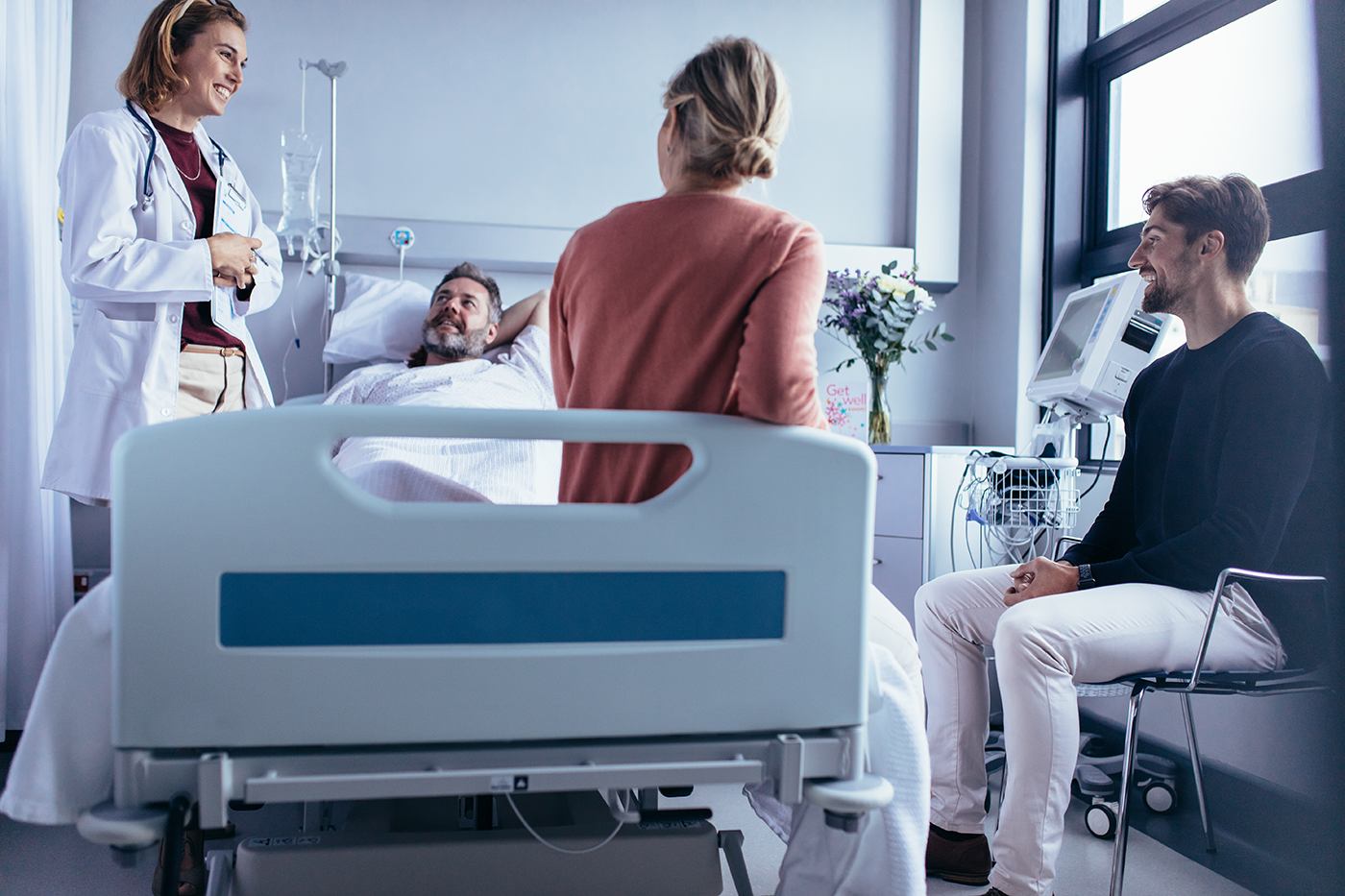 Flexibility.


One size does not fit all.
We have different hardware solutions to meet your Hospital needs. 29 years of project experience has given us the expertise to recommend the best solution for you.
CompanionWave.
The fixed bedside solution. Learn more >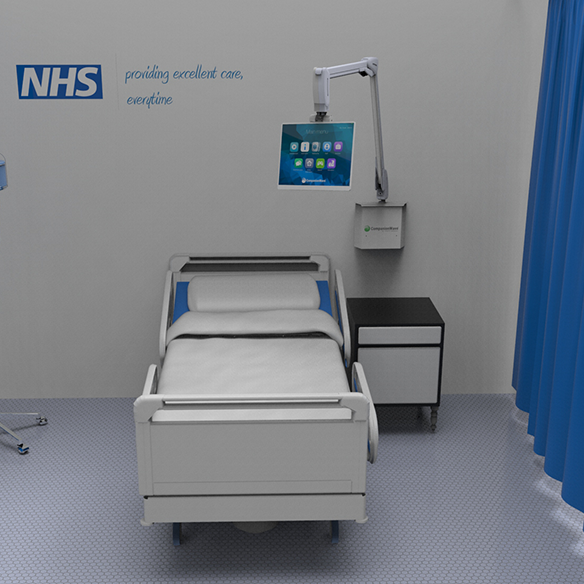 CompanionWave XL.


Single-bedded rooms? 

Learn more >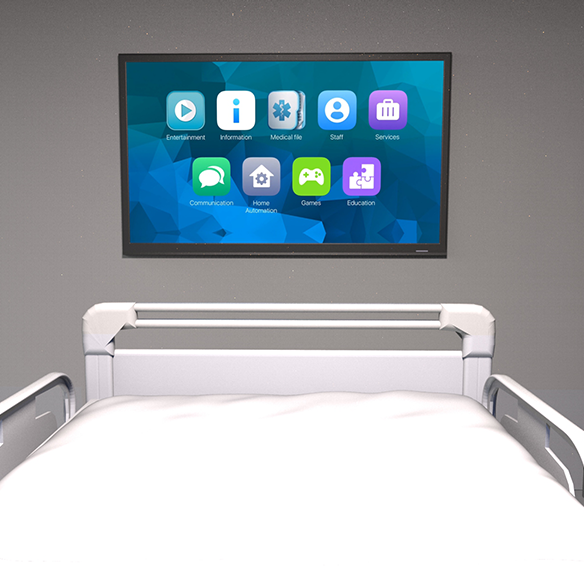 CompanionWave Air.


Bring your own device. 

Learn more >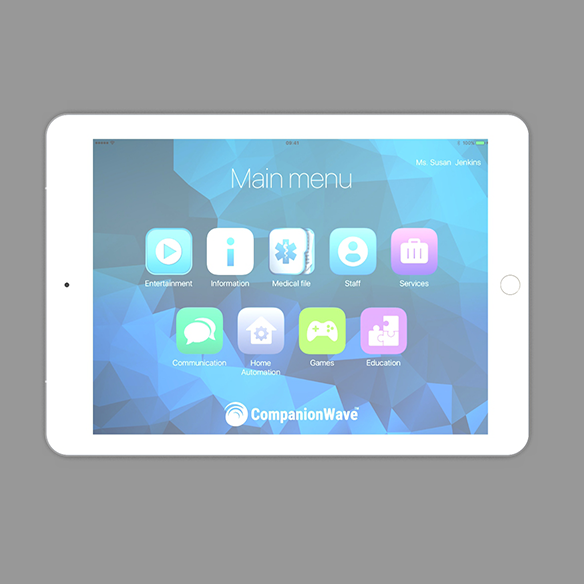 Affordable.


Modular, for your budget.
Looking at a more simple solution for now, with options of increasing capabilities in the future? Well, CompanionWave is completely modular and flexible to suit your budget.
Upgrade at any time you like.
Basic.




TV, radio, popular web applications and telephone/video telephone.



Additional infotainment.




Premium TV/Movies (Netflix), family photos, medical information and relaxation videos.



Hospital processes.




Meal ordering, patient feedback/surveys and differentiated nurse calling.



Flexible solution.
Rigid savings.
No lengthy contract.




We don't lock you in or restrict how patients use technology.



Flexible charging.




Full Trust control. You can choose whether to charge patients or offer the service for free.



Cross platform.




iOS, Android or Windows – to suit your needs.



Return on investment.


Save money. Save time.
We're proud to have worked with NHS Trusts to create a solution which gives a huge return on investment while driving key clinical and patient outcomes.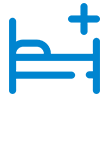 Shorter stay. 

Reducing the patient stay saves Hospitals costs. Use the savings calculator below to see how much you could save.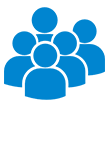 Better CQC score. 

Increasing patient engagement is key for hitting CQC targets.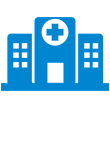 Less readmissions. 

Information on the patient's condition and what to do when they leave.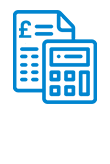 Transparent financing. 

Either self-finance or generate additional revenue through CompanionWave. No small print.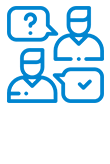 Improved communications and less admin.

Translation tools, meal ordering, patient surveys all release time to care.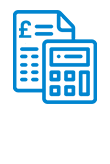 Reduced maintenance costs.

CompanionWave uses lower power consumption than other 'PES systems', reducing costs annually for your Hospital.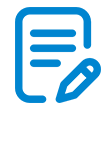 No lengthy contracts and full Trust control.

We don't lock you into a contract or restrict how your patients use technology and you'll have complete control over all payment options.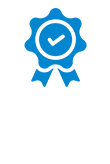 29 years experience. 

We have extensive expertise making Hospital IT projects successful, delivered on time and on budget.
Enquire below.
We're on hand to quickly give you pricing, more information or arrange a demonstration. Please get in touch by filling out the contact form or pop on to our instant Live Chat Service.
http://www.paritymedical.com/wp-admin/admin-ajax.php
http://www.paritymedical.com/patient-engagement
yes